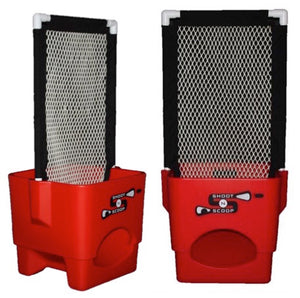 Game Set (2) -- SAVE $20
Buy 2 and save!  Play Small Ball with the Game Set!
The Game Set includes two Shoot n Scoops to run various drills and use the two as goals for small ball games.  Place each Shoot n Scoop on opposite ends of the backyard, field, park, wherever and play a friendly with your crew.
The Shoot n Scoop enables lacrosse players of all levels to better develop and hone essential lacrosse skills, namely, shooting, passing, and scooping.
Ideal for youth organizations, camps, and backyard play, a player cradles towards the Shoot n Scoop and either places or shoots/passes the ball into the net, whereby it falls into the bucket and onto the ramp falling out through the exit hole and onto the ground to be scooped up.
Beyond training, the Shoot n Scoop allows for one-on-one or multi-player lacrosse games on fields and backyards of all sizes, offering a more precise target on which to score a goal.
The Shoot n Scoop's net frame and net are detachable for easy storage and transportation.  The bucket's bottom chamber may be filled with water for added stability. 
Technical Specs (per unit):
Height (bottom of bucket to top crossbar): 42"
Width: 20.25" (at widest point)
Height (net): 31"
Height (bucket): 16.5"
Weight: 13lbs