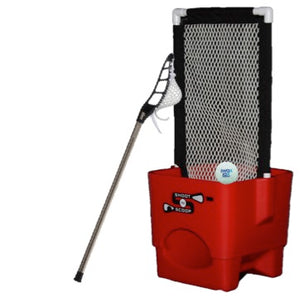 The Full Ride - Shoot n Scoop, StringKing Youth Stick, Swax Lax Ball (Boys)
Give your youth player the tools to discover lacrosse in a fun, safe, and intuitive way!
The Full Ride
 

brings together Shoot n Scoop, StringKing, and Swax Lax to offer the most innovative and highest-quality lacrosse equipment to start your youth player off on the right foot.
1

 

Shoot n Scoop

 

— Learn and develop critical fundamentals of shooting and scooping
1

 

StringKing Complete 2 Jr boys youth stick

 

(black head/nickel shaft) — Right size and weight stick with durable and flexible mesh pocket that's perfect for players up to 10 years of age
1

 

Swax Lax training ball

 

— A confidence-building regulation sized and weight lacrosse ball that's soft yet durable
The Complete Jr.
 

youth lacrosse stick is

 

light, balanced, and correctly proportioned, making it perfect for backyard and youth league play (legal up to 10U league play).
The

 

A7150 Jr. lacrosse shaft  is shorter, narrower, and lighter than their standard A7150, so young players can hold it correctly before they are developed enough to use a full-sized lacrosse stick.
A great pocket is the most important part of a lacrosse stick and critical to learning proper fundamentals. The Complete Jr. is strung with durable yet flexible Type 2s mesh and

 

a mid pocket so you are game ready—no break in or adjustments needed.
Lacrosse isn't fun if you can't catch the ball. The Mark Jr. lacrosse head is lighter and slightly wider than StringKing's Mark 1, giving it an

 

increased catching area

 

providing more enjoyment and confidence from the start.
Leave the hacksaw in the toolbox!  There's

 

no need to cut down a full-sized lacrosse stick, which is extremely top-heavy. The 28-inch A7150 Jr. shaft and lighter Mark Jr. head are designed together so the weight of the stick is balanced and feels like a real stick should.
Swax Lax
 

training balls are

 

the first and only soft lacrosse ball that are the same size and weight as a regulation ball. The ball was developed by a longtime lacrosse coach and has been field tested by boys and girls in Kindergarten through men's and women's college lacrosse teams.
The patent-pending soft ball helps new players develop their skills with greater confidence.  No more wincing kids as the ball is passed to them!
Makes lacrosse more approachable to beginners.  
Softer than hard rubber lacrosse balls and gentle on hardwood gym floors and other surfaces.
Provides less bounce and no rebounds making for a more productive practice environment.
Highly durable and shock absorbent
Weight: 142 to 149 grams
 Diameter: 64 mm
We've partnered with StringKing and Swax Lax as they have the same passion for youth lacrosse as Shoot n Scoop, bringing to market products that make it easier and fun to learn and play lacrosse. 
StringKing's roots are in high-performance lacrosse mesh and string, as they successfully created mesh and string that maintains it's form and feel in the rain; has a shorter break-in time; and remains consistent throughout extensive use.  They have since extended into sticks, shafts, heads, and other lacrosse accessories.  https://stringking.com/
Swax Lax® is committed to offering safe, innovative lacrosse products, services, and teaching guides that encourage lacrosse players to become more self-confident as they develop their skills on and off the field. Their first product, Swax Lax Lacrosse Training Balls, offers players the opportunity to learn and practice the sport with less fear and more confidence.  https://www.swaxlax.com/pages/about
StringKing Warning & Warranty
If your stick breaks within its 6-month warranty period, StringKing will replace it for free.
Major dents, cracks or breaks.

Any bend in the shaft.

Manufacturing defects.
Anything that would deem the stick unplayable or significantly affect performance.
Intentional alterations or deliberate misuse.

Minor dents or scratches.

Normal wear and tear.

Purchases from unauthorized dealers.

 
Photo documentation and valid proof of purchase are required for a full warranty credit.
Warranty replacement sticks have a limited warranty that covers 50% of their retail value. If you use your warranty credit to upgrade to a more expensive stick, your replacement stick will have a full warranty.
Swax Lax Warning & Warranty
Not intended for children under 4

Balls are suitable for rebounders but not wall ball

Dangerous if ingested by humans or animals

Swax Lax balls should only be used with age-appropriate head and eyewear

Can cause injury if shot at high speeds (is suitable for shooting at high speeds)
Beware of Swax Lax® knock-offs because they may not be as durable and well-made as our original, patent-pending design! We'll be dealing with knock-offs on a case-by-case basis once our patent claims issue.
Warning: 
Any projectile, including the Swax Lax training ball, is capable of causing serious injury or death. Avoid shooting the Swax Lax training ball at the head or face of another player. Protective gear, if properly used and maintained, may reduce the risk of some injuries, but it cannot and does not prevent all serious injuries.
Warranty:
 

Swax Lax LLC offers a 90-day replacement-ball guarantee on balls deemed defective in materials or workmanship under normal lacrosse game-playing conditions. This guarantee is valid on balls purchased through an authorized retailer. Please send a photo of the damaged ball and proof of purchase to 

info@swaxlax.com

. We cannot guarantee a replacement ball of the same color.